Happy Independence Day!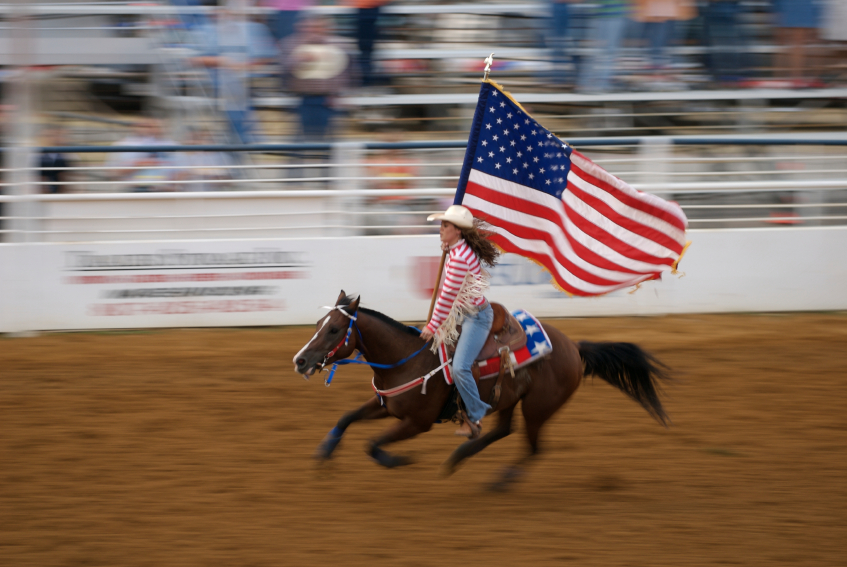 In Today's Horse Training Magazine Issue:
1. Happy Independence Day!
2. April Understands – Do you?
3. July 4th Specials – Don't Miss 'em!
—————————————————–
1. Happy Independence Day!
For all you in the US – Happy Independence Day!
This is a day to reflect and celebrate our great
heritage.  Don't take our freedoms for granted.
There are many who seem to want to restrict them
and control us more.
Our country was founded on strong principles and a
desire to get away from government oppression and
we built a framework for living in freedom.  We not
only need to celebrate that but also protect and
defend those freedoms.
Also – please keep our service men and women in
your prayers.  They put their lives on the line
to defend the freedoms we enjoy here.  Thank them
anytime you see them – they need our support.
Pray for them and for their families.  The families
are sacraficing right along with them and need
our support.
Wherever we live – we must treasure and defend
Independence and freedoms.  So many today don't
understand the difference between true freedom
from tyranny and oppressive governments and are
willing to trade it for security and look to
the government for provision.  It's a slippery
slope that threatens all we have for since
our founding fathers.
Lord bless your family today!  Enjoy it!
–Charlie
======================================================
2. April Understands. Do You?
Here's a great letter from April:
See if you can sense her enthusiasm and how much
she is enjoying working with her horse.
Her note is a real encouragement for all of us.
You can learn a lot just reading her letter and
understanding where her heart is.
————
"Hi Charlie,
I have my answer already!  I had the question of trailering a colt.
The good news is I have already trailered my yearling fairly well.
It was a difficult experience for him.  It was not something he
was or could of been prepared for.  I sure wished I could of but
circumstances called for him and his mother to be moved quickly.
The cool thing is when my yearling arrived at his new home he was
tired and all the prep work I have done with him for months, has
paid off!  He was afraid but trusted me!  He was scared but
followed me!
Even though this was new to both of us, all I have learned and
applied has been rewarded with an awesome new experience!
I can't stress enough that people need to spend time with their
horses and be patient.  Develop the relationship and trust with
their horses. Rome wasn't built in a day.
Horses truly know when you're impatient.  I know we have busy lives.
I do.  I spend 15 minutes some days and 3 hours some other days.
They know I love them.  I feed them, protect them and groom them,
I also ask things of them and they now enjoy working with me.
All I can say that spending time with your horse and being patient
with them is the answer. Find out what your horse needs and is
looking for you won't regret getting to know them.
I have loved reading the books of Jesse  Beery Horse training
books, I have bought your DVD and the Pulley Breaking Bridle.
I can't stop raving about what I am learning and have applied
to handling my horses.  I  enjoyed watching your DVD.  It makes
the book come alive with real situations and seeing it done.
I haven't used the bridle yet.  I know it will come in handy.
It just makes sense.
Thanks for your helpful e-mails.  Thank you for the time you
spend reading our letters and giving us your time.
Sincerely a Happy Customer,
April W."
———–
Thanks to April for sharing that!
3. July 4th Specials – Don't Miss 'em!
Here's TWO ways you can save right now:
Get A Complete Set OF EVERY DVD WE HAVE!

[Only 5 Sets Available]
Our Entire DVD Library – many we don't even
sell on the website yet!
You Get 31 DVD Titles – all professional
trainers and riding instructors. Some are
2-DVD sets so you actually get 39 DVDs.
And the price? LESS THAN 1/3rd Of the
normal price. Yeah…that low. My wife
thinks I'm crazy. That why we only offer
5 sets total. When they're gone w'ell
disable the order button for them.
http://www.horsetrainingresources.com/dvdlibraryspecial/
You must click the link to see the entire
collection – it's massive. You'll be able to
have one of the best training/riding DVD
libraries around for pennies on the dollar.
Talk about knowledge? From all those
professional, successful trainers? You'll
soon be the one others will go to get
answers to their problems.
Click This Link:
http://www.horsetrainingresources.com/dvdlibraryspecial/
Making Horse Dreams Come True!
I wrote a book a while back and named it:
"How To Find, Select and Buy Your First Horse"
However – it's a LOT more than that. It's
not just for buying a horse but for any new
horse owner who needs help getting started.
It also has bonus sections in the back for
vet information, feed, etc.
If you're fairly new to horses you should
seriously take a look at it here:
http://www.horsetrainingresources.com/how-to-buy-a-horse/
It's only $7.00 (MUCH less than normal) and you
can get one of the best Beginner Horse Riding
books around at a similar discount with it as well:
http://www.horsetrainingresources.com/how-to-buy-a-horse/
OK – take advantage of these savings. They don't
happen very often.
Thanks for your business!
Have a safe and enjoyable Independence Day for
for those of you in the USA!
Charlie
P.S. You can also use our 10% OFF coupon
for everything else – books, bits, etc.
Simply use the coupon code: CHARLIEHORSE
on the checkout page.
P.P.S. Remember – we are only offering 5 Sets
of the Entire DVD Library at this very low price.
If you have any inclination to learn as much
as you can in a very short amount of time then
this is your fast-track to making that happen.
The years and years of professional training
and riding expertise in this DVD library is
staggering. But I'll warn you – you'll have
to move fast to get one of the 5 sets.
Click here:
http://www.horsetrainingresources.com/dvdlibraryspecial/
Stay safe…